In the 1960s, a term emerged among American motorcyclists: UJM, short for Universal Japanese Motorcycle, a not very enthusiastic characterization of the CB, KZ, GS and XS models flooding our shores. As a style, UJMs also birthed the equally unenthusiastically named motorcycle type known as the "standard."
Simple, functional and stylish–in a "tank, seat, engine" sort of way–standards became, well, the standard motorcycle type for decades, as increasingly specialized niches evolved around them such as performance sport, sport touring, touring, cruisers, dual-sport, ADV…and lately factory custom, supermoto and flat track. There is a bike out there for every taste, but through it all standards, now known as slightly sexier "naked" bikes, have existed as cost-effective, fun options for those of us who just enjoy getting out and riding.
For a comprehensive list of the Best Bikes for Smaller Riders (and Budgets), click here.
From 1974 to 1984, one of those UJM "standards" was the Kawasaki KZ400, built for the U.S. market in a new factory in Lincoln, Nebraska, the first foreign-owned motorcycle plant in the country. Thirty-five years later, Kawasaki is rounding out its modern-day "Z" lineup of naked bikes with the new 2019 Z400 ABS (made in Thailand, not Nebraska).
Based on past sales and research trends, Kawasaki expects the naked bike segment to continue to grow as buyers seek out the same magic balance of performance, comfort and price that drew riders to the standards of the '60s, '70s and beyond. In fact, its research has shown that naked bike buyers name cost as a major deciding factor when choosing a new bike. It's not just the sticker price, but cost-of-ownership items like repairs, maintenance and insurance, all of which are typically less than that of a fully faired performance sportbike.
Naked bikes have often been described as de-tuned, dumbed-down versions of a given sportbike model, but the Z400 ABS defies that label. In fact, it's fair and quite accurate to describe the Z400 as a Ninja 400 with a flat handlebar and no fairings. Its steel trellis frame, 399cc, liquid-cooled, parallel twin engine, six-speed gearbox with assist-and-slipper clutch, 30.9-inch seat, 5-spoke cast wheels, Dunlop GPR-300 tires, front and rear ABS-equipped brakes, comfortably rearset footpegs, LCD instrument and Showa front/KYB rear suspension are all the same as the Ninja's, with one exception: the springs both front and rear are roughly 10 percent lighter for a more comfortable street-oriented ride.
Read our First Ride Review of the 2018 Ninja 400 ABS here.
Jenny's Gear
Helmet: Arai Signet-X
Jacket: AGV Sport Helen
Jeans: Spidi J&Racing Lady
Boots: Sidi Lady Gavia Gore-Tex
Otherwise, you're riding a Ninja 400 ABS, and at an MSRP of $4,799 the Z400 ABS is $500 less expensive than its fully faired fraternal twin. Like the Ninja, my first impression upon swinging a leg over it at the press launch ride in the rolling terrain of Southern California was its impression of size. The Z400, despite weighing in at a claimed 364 pounds ready to ride, feels like a larger motorcycle, and with its wide, relaxed handlebar that's 50mm higher than the Ninja's I found it to be comfortable on our 120-mile ride. That said, if it were mine I would probably install Kawasaki's accessory high seat ($199.95), which adds one inch to the seat height and would better fit my 34-inch-inseam legs.
Releasing the feather-light clutch lever (seriously, pull effort is so light we were warned not to rest our fingers on the lever for fear of unintentionally slipping the clutch as we rode), the 399cc parallel twin spools up quickly with plenty of torque down low and enough power at the higher end to make freeway cruising and high-speed passing a low-stress affair. I haven't had an opportunity to do a long freeway slog yet, but on our initial ride I detected no annoying vibes in the grips, seat or pegs. Best of all, like the Ninja the Z400 gets the big 5.8-liter airbox designed to let the rider hear as much glorious intake noise as possible, part of what Kawasaki describes as the essential "rider experience."
I was enjoying the heck out of my rider experience as we ascended famous Palomar Mountain, parallel twins howling. Staying at about 6,000 rpm seemed to keep me in the meat of the powerband, and chasing the pack up the mountain reminded me just how fun it is to ride in a group of smaller bikes. On the descent, it was the Z400's brakes that shone; a two-piston Nissin caliper squeezes the big 310mm wave-style front disc, and the 220mm disc in the back also has a two-piston Nissin caliper. The combo, equipped as standard with Nissin ABS, worked quite well at our sporting pace.
Suspension comprises a 41mm non-adjustable Showa fork at the front and a 5-preload-position KYB shock at the rear (adjustable with the included spanner; the Z400 still comes with a decent on-board tool kit). It also handled our sport ride with competence. Using a design borrowed from the Ninja H2 models, the swingarm mounts directly to the back of the engine, shaving weight and increasing stability. As expected, extremely bumpy corners could rattle the Z's composure but overall its short wheelbase/long swingarm/steep rake design kept it feeling flickable yet reassuringly stable.
As much fun as the Z400 is to ride, it's the little things that tend to win me over, and in this case there are two. One is the inclusion of hooks on the license plate/turn signal holder that facilitate attaching a tail bag or simply strapping something to the rear seat. It's amazing how often this gets overlooked on a bike meant for everyday riding. The second is the headlight, which contains six bright LEDs within its Sugomi-style housing. Even with their low beams on (with four of the six illuminated), quick glances into my mirrors at the other journalists behind me proved how visible the Z400's headlight is, something any rider should value. I've yet to ride it at night, but have high hopes for illumination functionality.
The Z400 ABS fills in the final gap in Kawasaki's naked bike lineup, and with its sub-$5,000 price tag it's an attractive option for today's value-conscious buyer. It's available in dealerships now in two color options, Candy Lime Green/Metallic Spark Black or Candy Cardinal Red/Metallic Flat Spark Black, for $4,799.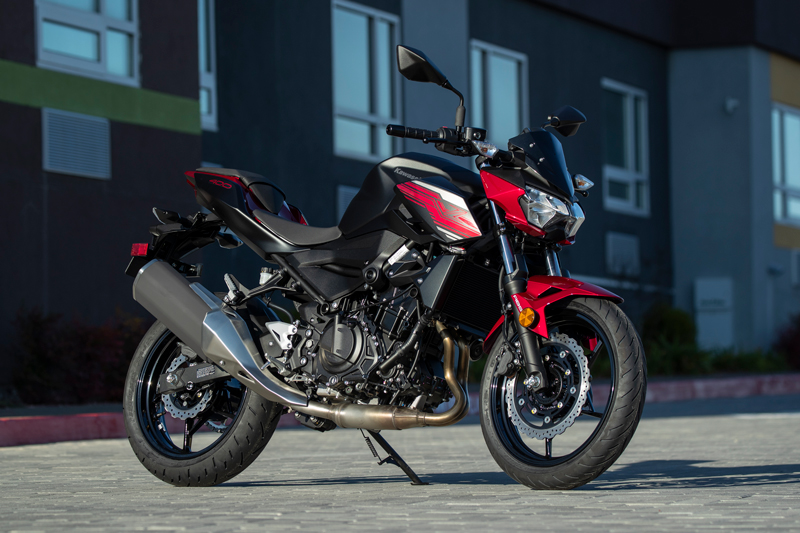 2019 Kawasaki Z400 ABS Specs
Website: kawasaki.com
Base Price: $4,799
Engine Type: Liquid-cooled parallel twin, DOHC, 4 valves per cyl.
Bore x Stroke: 70.0 x 51.8mm
Displacement: 399cc
Transmission: 6-speed w/positive neutral finder, cable-actuated assist-and-slipper clutch
Final Drive: O-ring chain
Wheelbase: 53.9 in.
Rake/Trail: 24.7 degrees/3.6 in.
Seat Height: 30.9 in.
Claimed Wet Weight: 364 lbs.
Fuel Capacity: 3.7 gals.
Claimed MPG: NA
Source: RiderMagazine.com