Here's a full breakdown of every premier class rider's right-hand-man ahead of the 2022 season getting underway
There's often as much intrigue in the movement of MotoGP™ crew chiefs as there is in the rider market itself. Although the key Championship contenders from 2021 will remain with their trusted right-hand-men for the upcoming 2022 MotoGP™ World Championship, the introduction of some new teams and five rookies means there's plenty of change up and down pitlane. Here's a full breakdown of who every MotoGP™ rider will be working with next season.
Monster Energy Yamaha MotoGP
World Champion Fabio Quartararo, rather unsurprisingly following his success last year, will remain with Diego Gubellini in 2022. The pair were first partnered together when the Frenchman debuted in MotoGP™ in 2019 and have formed a strong partnership ever since, with Gubellini moving up to the factory squad with El Diablo last year. There's a change in the opposite side of the garage, though, with Franco Morbidelli teaming up with Patrick Primmer.
After a couple of fruitful years with the experienced Ramon Forcada, Maverick Vinales' former suspension technician, Primmer, returns to the MotoGP™ paddock after a 2021 sabbatical to take up his first job as a crew chief.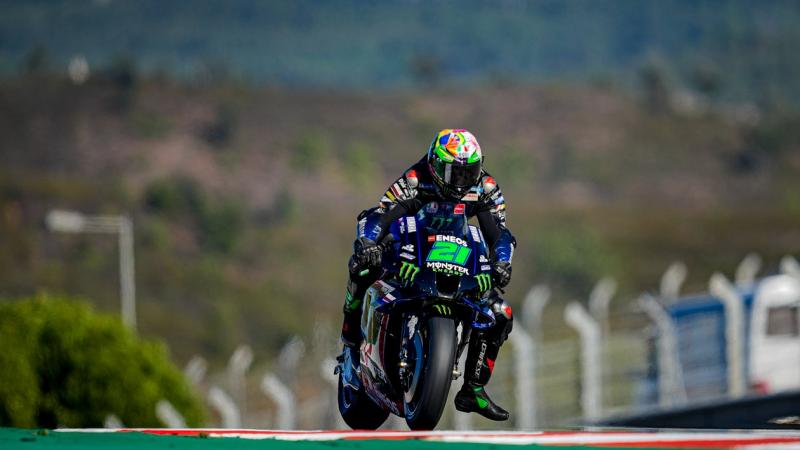 Morbidelli confirms new Crew Chief from 2022 05/11/2021
WithU Yamaha RNF Team
Andrea Dovizioso will continue to work alongside Ramon Forcada after the pair began their working relationship at the San Marino Grand Prix. Meanwhile, rookie Darryn Binder has been partnered up with the experienced Noe Herrera. Yamaha poached the Spaniard away from Red Bull KTM Ajo after helping Raul Fernandez to eight victories in his rookie Moto2™ campaign but, as Razlan Razali explained to motogp.com at the Jerez Test, he's also worked with the likes of Johann Zarco, Brad Binder and Miguel Oliveira over a successful 15-year Grand Prix career.
Ducati Lenovo Team
No change in the factory Ducati squad in 2022 as both Francesco Bagnaia and Jack Miller remain with their respective crew chiefs. Christian Gabbarini stays with Bagnaia, with huge hopes that he can once again enjoy title success after helping Casey Stoner to the Bologna factory's last premier class title back in 2007. Christian Pupulin sticks with Miller too, after moving up the factory squad with the Australian this time last year.
Pramac Racing
It's the same story in the Pramac Racing box, as well, with Jorge Martin and Johann Zarco sticking with their 2021 crew chiefs. Daniele Romagnoli will once again sit alongside Martin, whilst Zarco will work with Marco Rigamonti. However, the big question now is who the Pramac Racing Team Manager will be in 2022 with Francesco Guidotti expected to join the factory KTM squad.
VR46 Racing Team
A new team and a pair of new crew chiefs, both with a strong link to The Doctor's past. Luca Marini will have a new partner for the 2022 season as he teams up with his brother's former crew chief, David Muñoz. The Spaniard switches across from Petronas Yamaha SRT to work with Ducati for the first time. Whilst on the other side of the box, rookie Marco Bezzecchi will work with Matteo Flamigni. The former data engineer has worked alongside the nine-time World Champion for nearly twenty years but will take on his first role as a crew chief in 2022 with the bushy-haired Italian.
Gresini Racing
In the Gresini garage, Enea Bastianini brings with him the experienced Alberto Giribuola. The pair will start their second season together after Giribuola's successful period together with Andrea Dovizioso came to an end in 2020. Whereas rookie Fabio Di Giannantonio will work with Donatello Giovanotti. Promoted from Gresini's Moto2™ efforts where he worked with Nicolo Bulega last year, Giovanotti also has experience working with Luca Marini in both the VR46 Moto2™ squad and at Forward Racing. Gresini have also added Sergio Verbena to their ranks as well, after two years working alongside Brad Binder and then Danilo Petrucci at KTM.
Team Suzuki Ecstar
No change in the factory Suzuki garage as Joan Mir sticks with Frankie Carchedi and Alex Rins remains with Jose Manuel Cazeaux. Similar to Pramac Racing, the question looming over Suzuki is who will take up the vacant spot as team boss after the shock return of Davide Brivio was recently ruled out.
Repsol Honda Team
Eight-time World Champion Marc Marquez will once again be working with Santi Hernandez in 2022, whilst Pol Espargaro sticks with Ramon Aurin. That means, for the first time since 2016, Aurin will be working with the same rider in consecutive seasons after a six-year stretch that saw him work with Dani Pedrosa, Jack Miller, Takaaki Nakagami, Jorge Lorenzo, Alex Marquez and then Pol Espargaro.
It's the same story in Lucio Cecchinello's squad as Japanese star Takaaki Nakagami continues his partnership with Giacomo Guidotti and Alex Marquez embarks on a second season with Christophe Bourguignon.
Red Bull KTM Factory Racing
There's a big change at the top in the Austrian factory following the departure of Mike Leitner, with Francesco Guidotti expected to be announced as working with their new Technical Director Fabiano Sterlacchini. Their new Technical boss enjoyed 17 years at Ducati, rising up to a senior role alongside Gigi Dall'Igna, before moving to the Mattighofen-based factory, whilst Guidotti will return to KTM after working for their 250cc outfit between 2006 and 2009. However, when it comes to crew chiefs, there's no change. Miguel Oliveira sticks with Paul Trevathan and Brad Binder will work with Andres Madrid.
Tech3 KTM Factory Racing
A pair of new faces for Herve Poncharal to oversee in 2022 and with that comes new crew chiefs for Remy Gardner and Raul Fernandez. The Moto2™ World Champion will work with Alex Merhand, who jumps into the crew chief role after a number of years as a Data Engineer at Tech3. Meanwhile, Fernandez will partner with Nicolas Goyon in 2022.
Aprilia Racing
No change in the Aprilia box as Aleix Espargaro continues his partnership with Antonio Jimenez. On the other side of the garage, Maverick Viñales will embark on his first full season with Giovanni Mattarollo. The former chassis engineer for Aprilia was moved up from the test team to sit next to Viñales when the Spaniard made his debut with the Noale squad.
Every practice session, qualifying battle and race, exclusive interviews, historic races and so much more fantastic content: this is
VideoPass!
Source: MotoGP.com – Read Full Article Here