Max Whale extends KTM contract in AFT until 2023
AFT Singles Championship contender Max Whale has signed a two-year deal to remain with the Red Bull KTM Factory Racing team through the 2023 American Flat Track Championship, after another successful season in 2021.
In his fourth season in the class, the Aussie has established himself as a force in the AFT Singles division as he prepares to battle down to the wire for the coveted title, which is mathematically still up for grabs at the Charlotte Half-Mile finale next month. With four Main Event victories and four top-five finishes in his first season with the team, Whale continues to build on his solid platform aboard the KTM 450 SX-F FACTORY EDITION for the next two seasons.
Max Whale
"I am so pumped to sign a two-year extension with the Red Bull KTM Factory Racing Team. I've been having an awesome time this year with my team, racking up victories and points! I'm excited for the next two years of my career with the crew."
---
Australia finishes fourth in Team Speedway U21s
Three Australian speedway riders flew the national flag at the FIM Team Speedway Under 21 World Championship finale in Poland. Matthew Gilmore, Keynan Rew and Brayden McGuiness carried Australia's hopes in Bydgoszcz, Poland, against some of the best speedway teams in the world, and missed out on a bronze medal by just a single point.
Team Poland won on home soil, Wiktor Lampart and Jakub Miśkowiak didn't give any chance to their rivals. The podium was completed by the Danes and quite unexpectedly the British. The Team Junior World Championships final in Bydgoszcz was held in the format which fans know from Speedway of Nations.
Team Captain Matthew Gilmore
"It has been an konour to Captain "Team Australia" in the FIM Team Speedway U21 World Championship. It was great to ride along side Keynan and Brayden, we gave it our best and finished fourth in the world. Thanks go out to Aussie Team Manager Mark Lemon for all his organisation, advice and encouragement which was greatly appreciated by us Joeys. Thanks also to Motorcycling Australia for your ongoing support. To my sponsors, family, friends and followers that have supported me, thanks. It has been an absolute privilege to have the opportunity to represent Australia and I was fortunate to do so, Thanks again MGR. Craig Watson, GM Engines, Signworx Group, C4 Industries, LAR (Leigh Adams Racing), JTR, KLS Denmark, GM Australia, LKI Brand, Scott Brown Flooring & Chris Watson Motorcycles."
Team Speedway U21s Results
I. Team Poland- 45
7. Jakub Miśkowiak – 21+3 (0,4,3*,3*,4,3*,4)
8. Wiktor Lampart – 24+2 (4,3*,4,4,3*,4,2)
18. Mateusz Cierniak – NS
II. Team Denmark – 35
3. Mads Hansen – 17+1 (4,4,d,-,4,2,3*)
4. Tim Soerensen – 7+1 (2,-,2,3*,w,-)
16. Marcus Birkemose – 11+1 (3*,4,4,0)
III. Team Great Britain – 27
9. Tom Brennan – 20 (4,2,4,2,4,4)
10. Drew Kemp – 5+1 (3*,0,2,-,-,d)
19. Leon Flint – 2 (0,2)
IV. Team Australia – 26
13. Matthew Gilmore – 9+1 (2,3*,0,2,2,0)
14. Keynan Rew – 17 (3,4,3,0,4,3)
21. Brayden McGuinness – NS
V. Team Czech Rep. – 23
5. Daniel Klima – 5 (-,-,3,0,-,2)
6. Jan Macek – 6 (3,0,-,-,0,3)
17. Petr Chlupac – 12 (2,2,2,3,3)
VI. Team Latvia – 22
1. Francis Gusts – 15 (3,4,4,4,w,0)
2. Ricards Ansviesulis – 0 (0,-,0,-,-,-)
15. Daniił Kołodinski – 7 (d,2,3,2)
VII. Team Sweden – 20
11. Philip Hellstroem-Baengs – 14 (2,t,t,3,4,3,2)
12. Alexander Woentin – 6 (0,2,-,2,2,-)
20. Jonatan Grahn – 0 (0,0)
---
Malcolm Steward joins Rockstar Energy Husqvarna Factory Racing
The Rockstar Energy Husqvarna Factory Racing Team and Malcolm Stewart have inked a two-year deal to join the team's 450 efforts in both AMA Supercross World Championship and AMA Pro Motocross racing. The 28-year-old Florida native will pilot the FC 450 Rockstar Edition for the 2022 and 2023 race seasons, beginning on January 8 with the Anaheim SX season opener.
Malcolm Stewart
"I'm really excited to have a full indoor/outdoor deal that's sealed for two years. It's definitely a great opportunity for me and I think there's nothing but positive vibes coming from me. I've always wanted to ride one of these Husqvarna motorcycles, I've seen everybody in the past do very well on it. We've been putting in the work this summer. Having a new training program going with Aldon Baker, I know there's going to be a lot of big changes for me but I'm looking forward to it all. I've seen the successes that have happened through The Baker's Factory and I want to be a part of those people, so I feel that this is a good opportunity for me in these next two years to go out there and do the best that I can."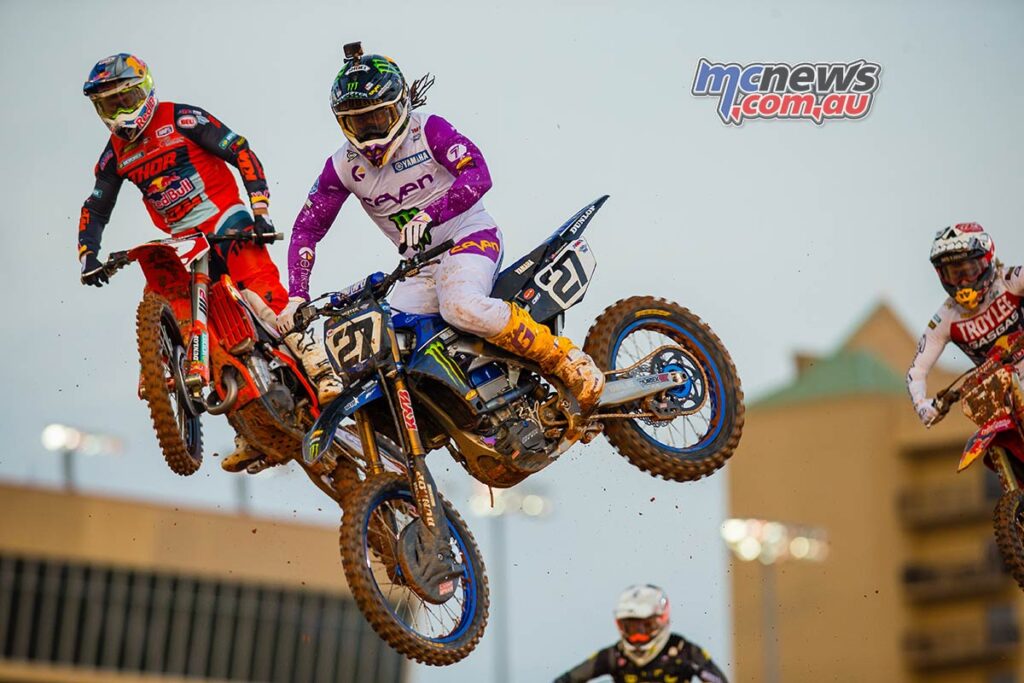 Fresh off his best-career Supercross season with sixth overall in 2021, the 2016 250SX East Champion earned his first 450SX podium at the penultimate round in Salt Lake City before finishing the year out strong with a top-five result. Now, with the Rockstar Energy Husqvarna Factory Racing team behind him, Stewart looks to keep the momentum rolling as he prepares to attack both Supercross and Motocross for the first time since 2014.
"It's been a while since I've done the outdoors but I feel like racing is racing – anytime the gate drops there's no negative vibes and it's always going to be a positive. You live and you learn something from it, so let's just get ready because that #27 is going to be out there!"
---
Marvin Musquin extends KTM contract through 2022 SX season
Marvin Musquin has locked in a deal to remain with the Red Bull KTM Factory Racing team through the 2022 AMA Supercross Championship. Entering his 12th season with the U.S. Red Bull KTM Factory Racing team in 2022, the French rider has become synonymous with the brand thanks to his top level of performance and commitment within the sport.
Enjoying success at the last two rounds of the 2021 AMA Supercross Championship, the 31-year-old has proven that he still has plenty to give as he charges full-steam ahead towards a career-first 450SX title come January.
Marvin Musquin
"I'm really happy to extend my contract for another year making 12 years racing in the U.S. and 14 years in total with the with the Red Bull KTM family! It's no secret that everyone on the team is like family to me. It will be another fun challenge working with the new bike, which will be a lot more work but that's exciting! I look forward to focusing my efforts on the Supercross series and to the Supercross schedule being back to normal starting back at Anaheim in January!"
---
2021 Speedway of Nations semi-finale squads confirmed
The national squads for the 2021 Monster Energy FIM Speedway of Nations have been revealed. The competition gets underway with the Semi-Finals at Latvian venue Daugavpils on September 17 and 18.
Poland face off against Sweden, Denmark, the Czech Republic, Finland, Slovenia and the USA in Semi-Final 1 on Friday, September 17, with hosts Latvia taking on MFR, Australia, Germany, France, Italy and the Ukraine in Semi-Final 2 on Saturday, September 18.
Each country must list a squad of two or three senior riders, plus one or two under-21s, before naming their final starting line-up next week, featuring two seniors and one under-21.
World champion Bartosz Zmarzlik has been named in Poland's squad ahead of Semi-Final 1, with Maciej Janowski returning to the group after missing the 2020 tournament.
Last year's under-21 star Dominik Kubera is handed a dream call-up to complete the list of seniors, having reached both Orlen Lublin FIM Speedway Grand Prix of Poland finals on a sensational SGP debut weekend last month.
Lublin star Wiktor Lampart and Czestochowa racer Jakub Miskowiak are Poland's under-21 options as team manager Rafal Dobrucki names his first SON squad since taking charge of his country.
The Danes name SGP stars Leon Madsen and Anders Thomsen in their senior spots, along with European champion Mikkel Michelsen.
FIM Speedway Under-21 World Championship leader Mads Hansen and Jonas Seifert-Salk serve as their under-21s.
World No.3 Fredrik Lindgren leads the Swedish selections and he is joined by double Swedish champion Jacob Thorssell and 2021 Swedish Championship runner-up Pontus Aspgren.
Team manager Morgan Andersson names Philip Hellstrom-Bangs and Alexander Woentin as his under-21s.
Vaclav Milik leads the Czech list and he is joined by veteran Josef Franc and Prague prospect Daniel Klima. Anlas Czech SGP wild card Jan Kvech and Petr Chlupac are their under-21 options.
American shooting star Luke Becker is in the USA squad, alongside Broc Nicol and Dillon Ruml. Blake Borello and Anthony Dion are their under-21s.
Matic Ivacic leads the Slovenian line-up alongside former World Under-21 finalist Nick Skorja. Anze Grmek is their sole under-21 rider in a three-man squad.
The Finns select Timo Lahti, Tero Aarnio and Jesse Mustonen as their senior stars, with Timi Salonen and Roni Niemela their under-21s.
Hosts Latvia take to the shale in Semi-Final 2 on Saturday, September 18, with former European champion Andzejs Lebedevs named in their squad, alongside fellow 2021 GP Challenge finalist Jevgenijs Kostigovs and last year's World Under-21 Final bronze medallist Olegs Mihailovs.
Current World Under-21 finalists Francis Gusts and Daniils Kolodinskis are their junior stars.
MFR are without their triple world title-winning pair Emil Sayfutdinov and Artem Laguta, with Sergei Logachev and Vladimir Borodulin representing the reigning champions.
Lublin rider Mark Karion is their sole under-21 as team manager Tatiana Savina names a three-man squad.
Australian team manager Mark Lemon has selected 2017 world champion Jason Doyle, along with SGP 2022 qualifier Max Fricke and Jack Holder. Young guns Keynan Rew and World Under-21 finalist Matthew Gilmore are in line for the under-21 position.
Former SGP regular Martin Smolinski and Kai Huckenbeck team up for Germany and they are joined by under-21 Nick Blodorn in a three-man squad.
The French select Masarna colleagues David Bellego and Dimitri Berge, with World Under-21 finalist Steven Goret named as their under-21 rider on a three-man list.
SGP first reserve Aleksandr Loktaev is nominated by the Ukraine alongside Vitalii Lisak and Stanislav Melnychuk. Their under-21 riders are Marko Levishyn and Andryi Rozaliuk.
The Italians complete the field for Semi-Final 2 and they name Nicolas Covatti, Paco Castagna and Nicolas Vicentin in their squad. Michele Menani is their sole under-21 selection.
The top two teams from each Semi-Final automatically join hosts Great Britain in the Monster Energy SON Final in Manchester on October 16 and 17.
The third and fourth-placed teams in both of the Daugavpils rounds will then compete in the Final Qualifier at the end of each night for the two remaining places in the Final, where the 2021 Monster Energy SON world champion will be crowned.
MONSTER ENERGY SON SEMI-FINAL SQUADS (in draw order):
SEMI-FINAL 1 – FRIDAY, SEPTEMBER 17
TEAM A – USA

1. Broc Nicol
2. Luke Becker
3. Dillon Ruml
U21 1. Blake Borello
U21 2. Anthony Dion
Team Manager: Steve Evans

TEAM B – POLAND

1. Maciej Janowski
2. Dominik Kubera
3. Bartosz Zmarzlik
U21 1. Wiktor Lampart
U21 2. Jakub Miskowiak
Team Manager: Rafal Dobrucki

TEAM C – CZECH REPUBLIC

1. Vaclav Milik
2. Josef Franc
3. Daniel Klima
U21 1. Jan Kvech
U21 2. Petr Chlupac
Team Manager: Filip Sitera

TEAM D – DENMARK

1. Leon Madsen
2. Mikkel Michelsen
3. Anders Thomsen
U21 1. Mads Hansen
U21 2. Jonas Seifert-Salk
Team Manager: Hans Nielsen

TEAM E – SLOVENIA

1. Matic Ivacic
2. Nick Skorja
U21 1. Anze Grmek
Team Manager: Gregor Arnsek

TEAM F – SWEDEN

1. Fredrik Lindgren
2. Pontus Aspgren
3. Jacob Thorssell
U21 1. Philip Hellstrom-Bangs
U21 2. Alexander Woentin
Team Manager: Morgan Andersson

TEAM G – FINLAND

1. Timo Lahti
2. Tero Aarnio
3. Jesse Mustonen
U21 1. Timi Salonen
U21 2. Roni Niemela
Team Manager: Jyri Palomaki
SEMI-FINAL 2 – SATURDAY, SEPTEMBER 18
TEAM A – ITALY

1. Nicolas Covatti
2. Paco Castagna
3. Nicolas Vicentin
U21 1. Michele Menani
Team Manager: Alessandro Dalla Valle

TEAM B – AUSTRALIA

1. Jason Doyle
2. Max Fricke
3. Jack Holder
U21 1. Keynan Rew
U21 2. Matthew Gilmore
Team Manager: Mark Lemon

TEAM C – UKRAINE

1. Aleksandr Loktaev
2. Vitalii Lisak
3. Stanislav Melnychuk
U21 1. Marko Levishyn
U21 2. Andryi Rozaliuk
Team Manager: Sergey Lyatosinskyy

TEAM D – MFR

1. Sergei Logachev
2. Vladimir Borodulin
U21 1. Mark Karion
Team Manager: Tatiana Savina

TEAM E – LATVIA

1. Andzejs Lebedevs
2. Jevgenijs Kostigovs
3. Olegs Mihailovs
U21 1. Francis Gusts
U21 2. Daniils Kolodinskis
Team Manager: Vladimir Ribnikovs

TEAM F – GERMANY

1. Kai Huckenbeck
2. Martin Smolinski
U21 1. Nick Blodorn
Team Manager: Herbert Rudolph

TEAM G – FRANCE

1. David Bellego
2. Dimitri Berge
U21 1. Steven Goret
Team Manager: Laurent Sambarrey
---
Motoland teams up with Motorcycling Queensland
Queensland's newest motocross destination, Motoland is teaming up with the state's governing body for motorcycle sport and recreation – Motorcycling Queensland. In a first for motocross in Queensland and one of the first in Australia, a private entity will align with the state controlling body, and a local motocross club, to deliver a motocross destination – located at the historic Tivoli Raceway site near Ipswich.
The purpose of the alliance is to not only create an incredible facility for the benefit of south-east Queenslanders, but also to drive motocross participation and grass-roots competition in the region.
In addition to three brand new tracks, designed to cater for all skill levels, Motoland's facilities off the track, promise to be the best in the region. The park will boast multiple raised viewing areas, quality toilets and amenities and a brand new cafe and retail space. Bailey reiterated, that at Motoland, the consumer experience off the track, will be as important as the one on it.
Details of Motoland's operating times, pricing and booking information will be provided in the coming weeks, with an official open day expected to be announced for the early stages of October. To register for your chance to be one of the first to ride Motoland, go to www.motoland.com.au.
---
Toni Bou leaves Spanish TrialGP one-point off title
Repsol Honda Team rider Toni Bou rode to a fine victory in Pobladura de las Regueras, León, in the seventh round of the TrialGP World Championship.
The course of this seventh event of the elite trial competition played out over varied terrain with river areas offering little grip and indoor-style areas featuring logs and stones, with riders having to complete two laps of the twelve-section course.
Repsol Honda Team rider Toni Bou dominated the first of the double-date event in Pobladura de las Regueras with an excellent showing, finishing with a total of sixteen marks, twenty less than the nearest second-placed rider, arch rival Adam Raga. Bou continues to lead the overall TrialGP World Championship standings, currently fourteen points clear of the second-placed adversary.
Bou also won for the second day running in the trial at Pobladura de las Regueras, León, to secure a sixth win of the season. Bou increased his lead in the championship standings to 19 points. Fujinami finished seventh.
As had been expected, Toni Bou had to struggle somewhat at the trial in Pobladura de las Regueras today. Opponent Jaime Busto put the pressure on the champion and it wasn't until the very final sections that the event swung in favour of the Repsol Honda Team rider. With the triumph, the sixth of the season, Toni Bou increases the gap at the head of the overall championship, now holding a 19-point lead over second-placed rider Adam Raga. Bou needs just a single point next Saturday to be crowned 2021TrialGP champion.
The final event of the 2021 Trial World Championship will be held next Saturday in Gouveia, Portugal. The following day, Sunday 19, the Trial of Nations is scheduled to take place in the same Portuguese town.
Toni Bou
"We battled hard throughout the trial. I made a mistake in section 8 and I knew that section 11 would be my last chance, I took a gamble and it worked out well. Winning in the final sections is an incredible feeling. I want to congratulate Jaime Busto because he was really strong, not just today but all weekend and I think this is very good for trial. There will be a great final battle with Adam Raga. This is very nice and adds more value to the wins. I'm 19 points ahead in the general standings, but before the last race in Portugal anything could happen. This week I will have to be careful and for the final race we will have to be very focused so that we don't have any mechanical issues or anything that could prevent us from winning the world championship."
Source: MCNews.com.au